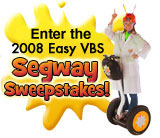 Give your children a new enthusiasm for God's Word—and for Jesus! As you engage kids with fun, science-themed surprises, you'll see amazing things happen. The delighted smiles...the memorable Bible points…they all add up to making a life-long difference in the lives of your children!
2008 PLUG INTO POWER LAB CATHOLIC VBS...

This exciting and completely Catholic VBS has everything your parish needs to create a fun, faith-filled program that promotes Catholic identity while engaging young kids. Our Catholic VBS is "the Easy VBS" because we make it easy for you to pull it all together.

presents the daily Bible stories through our Catholic lens in our Catholic Scripture Background and Catholic ID
uses the NRSV—Catholic Edition of the Bible
includes Catholic music by John Burland
promotes Catholic Social Teaching and raises awareness of various social issues with our new Connecting Kids to Justice feature—in collaboration with Catholic Relief Services
highlights the lives of Catholic holy women and men with our People of Faith cards
sends kids home with Catholic-specific Daily Challenge options

The activities and games connect to kids in a fun way. The colorful music is a fusion of fun & faith that's sure to get kids up and moving. And interactive Bible adventures draw kids into the experience, capture their imaginations, and make an impact that lasts long after VBS is over.